Almost half a year has passed since the eve of Rosh Hashana. Six months of terror attacks in Jerusalem and Tel Aviv, Gush Etzion and Hebron, Ra'anana and Be'er Sheva, and elsewhere. A half year of intifada.
On the eve of Rosh Hashana, Alexander Levlovich was driving on the road leading from Armon Hanatziv in Jerusalem, taking two guests after the Rosh Hashana dinner back to their home. During the drive, five young men from the nearby village of Sur Bahar threw stones at his car, which caused him to crash into a tree, and he was killed. Levlovich was the first victim of the wave of terror attacks.
Since then, 32 others were killed. We spoke with the families of four of the murdered about coping with their loss.
"To this day, we haven't found the time to sit down and deal with our own grief," says Nir Levlovich. "(We've been dealing) with the trial and the terrible decision to charge our father's murderers only with manslaughter, and the decision made by the government to demolish (the terrorists' houses) without including us as a family. The feeling is that we were hurt twice – once when my father was murdered and taken from us and once as we have to deal with the bureaucracy."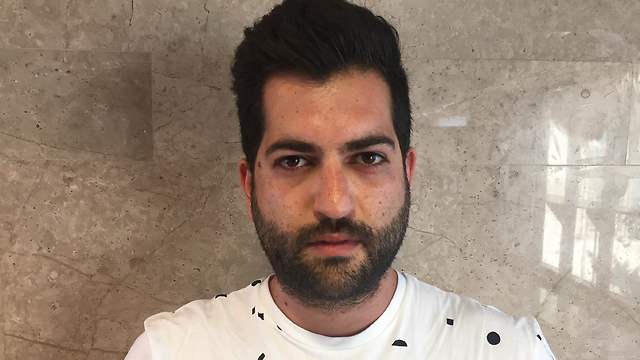 Nir Levlovich (Photo: Daniel Elior)
Nir says that he misses "the laughing, the holidays. Dad left us during the holidays, we were used to spending them together. I miss the emotional support, the sympathetic ear, having a place to come to, being able to share things and consult with him. The happiness in his eyes when he is with the grandchildren. His visits on Fridays. A father is one of the significant persons in one's life, and to lose him in a single moment is incomprehensible." Your father was the first fatality in this escalation of violence, did you imagine that this situation would last for five months? "Whenever I hear about someone who was killed, I feel what I felt the moment they told me that my father was murdered. The government is being irresponsible towards us as citizens. I feel scared to walk the streets, travel on the roads. The fact that my family was attacked once gives me no assurances that it would not be attacked again." Where do you draw the strength to move on? "Absurdly, I draw it from my father. My father's optimism, his desire that we go on in life. We have dad's legacy. Twenty-eight years ago, he founded an Ilan Association Paralympic residence in Gilo and wanted to add a nursing department there, and we are working to open it in his memory. We want to thank the volunteers who are helping us turn his dream into reality and the 'Mishpacha Achat' association for helping us." How do you expect that the government will help you? "We expect them to show flexible thinking, to recognize that orphans can also be over 21 – 30 years old, 40 years old – and also recognize grandchildren. We expect the government to do everything in its power so that we do not suffer twice, and so that we don't have to carry the burden ourselves, except the burden of coping with the loss of a father."
'On the accursed day of January 1, a new life began'
Nitsa and Dudu Bakal smile bitterly at the question whether there is such a thing as returning to normal. Two months have passed since their son Alon Bakal was killed by the terrorist Nashat Melham at HaSimta pub on Dizengoff Street in Tel Aviv, and life is really far from returning to normal. "From 1 January 2016, that cursed day, begins a new life. Everything is different, it's not the same joie de vivre."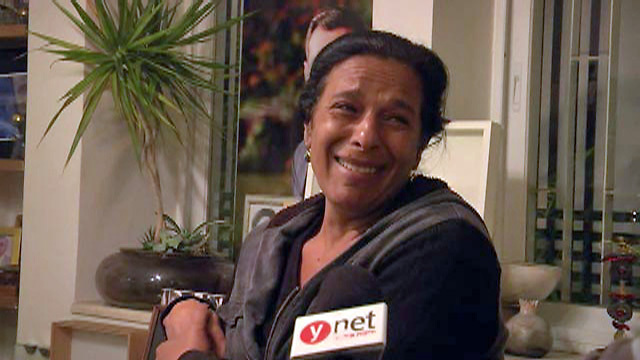 Nitza Bakal (Photo: Ido Beker)
For the past two months, the family says, Nitza has not left the house, and is not really functioning. Her only forays to the outside world are to the cemetery – sometimes several times a day. "I only leave here to go to his kingdom," says Nitza, and she often gets choked up from the pain. "I return home, and go out again, because I really miss him. Three times a day, I am in his kingdom, nurturing, planting plants, cleaning, weeding. It's what I do. Routine? How? I'm not cooking, there are no pleasant smells, there's nothing here. His death destroyed my world, it destroyed our home." The house's walls and sofas are laden with large photographs of Alon, both alone and with family: in uniform, in festive clothes, at basketball games of his favorite team, Hapoel Jerusalem. For the 30 day memorial, that was held at the auditorium in Karmiel, dozens of photos of Alon were printed on large surfaces. "It's living with Alon all the time. We only focus on Alon, on his honor. I also won't have people saying he is being commemorated. We honor him. It is in his honor."
Dudu, Alon's father says that he is in contact with other bereaved families, and is working to promote the expulsion of families of terrorists. "My daughter Bar Levav came to me and asked innocently 'What's next? What should I do to make it stop?' But nothing is being done here. Nothing changes. There is no end to it," Dudu says.
Nitza adds: "Such suffering, that another family is bereaved. How it burns, how it hurts. It destroyed families. We were a happy family, now no more."
"Alon was my soul mate," she says painfully. "A happy child, from a happy home. I used to smile a lot, laugh and make people happy. And suddenly it was turned off, I haven't done anything for over 60 days. It's a nightmare, this terrorism must end. No mother needs to sit there and suffer as I am suffering. I do not wish it on anyone."
'Life ends, we have to start from scratch'
Adele Banita-Bennett was attacked at the end of the holiday of Sukkot, when she was returning from the Western Wall with her husband Aharon and two children Natan and Shulamit through Hagai Street, near the Damascus Gate in Jerusalem's Old City. The terrorist Mohand Halabi attacked them with a knife, and Adele and her son were seriously wounded, while her husband was stabbed to death before her eyes. Five months have passed but the road to recovery is still long.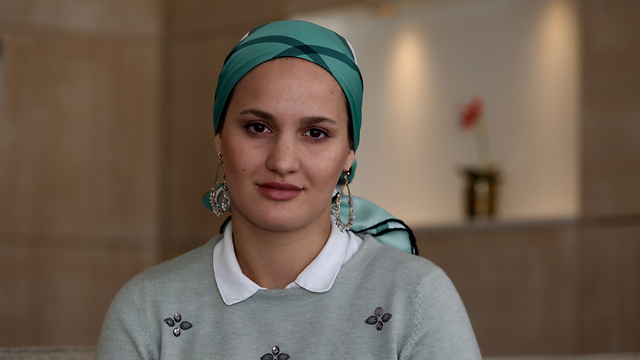 Adele Banita (Photo: Gil Yochanan)
"Everything is still upside down for us. We are still going through medical treatment. I'm going to physical therapy and Natan is hospitalized," says Adele, who found herself alone with two children at the age of 22. "My husband served in the military and worked as an electrician outside the army. I worked in special education in remedial teaching. A week before the attack I told him, 'Aharon, thank God, our lives are beginning to stabilize. We're a couple with two children, two salaries. But man plans and God laughs. One day your life ends and you have to start from scratch." Before the attack, the family lived in Beitar Illit, but after it Adele went back to live with her parents in Jerusalem. They were living in a small apartment with her three little brothers, and so the whole family had to move. "We went through 12 apartments, from apartment to apartment, from hotel to hotel. A few days here, and a few weeks there. We just found an apartment for the next year with my parents and my three brothers, but it is very expensive. After you live as an independent adult, it is hard to go back to relying on your parents." On the one hand, according to Adele, "I have no other choice. I'm wounded, handicapped, my hand is not fully functioning, my child is wounded. On top of the difficult loss, we keep going to treatments. I badly need their help, they support me all the time." Beyond the medical treatments they need, the entire family is suffering from PTSD from the attack. "We deal with this daily. Natan saw everything and was aware of everything that happened. Some time ago he asked me, 'Mom, why did they do boom boom to Dad with the knife?' I didn't think he understood what had happened. I told him a bad man hurt father so much and now father is gone, but nothing more than that. The questions keep coming up. There isn't a day that he doesn't get up and cry for his father." She says her baby Shulamit also experienced severe trauma. Until the attack, Adele rarely left her baby's side. But during Adele's time at the hospital, which lasted over three weeks, baby Shulamit had to be away from her mother for the first time. "Now I have to rebuild the trust with her. Wherever I go, she follows me and checks to see that I am with her. She was very close to Aharon, he loved children. He was an outgoing person, active and happy. We keep waiting for him to come through the door, that we find out it was all a joke.
"I saw my husband being stabbed, and the images are still in my mind. But my way of dealing with it is through repression. It is easiest. I have no energy to deal with the children, my injury and with my trauma all at once. There was a time I was very scared to walk down the street, I was constantly looking all around. I am alert. I'm ready if someone comes with a knife."
Adele says it is very difficult for her to cope. "I was at a wedding and suddenly realized I was alone with young children. It hit me that I'm a widow. This is a difficult situation. I have no life. No matter how much I try to be positive, it will never go back to what it was."
The financial support she receives from the Ministry of Defense is not enough to rent a big enough apartment in the city. "I have to pay for medical treatments, taxis to take us to treatments, there is endless spending. There is sensitivity, but ultimately it's a bureaucratic system that takes its time."
'The pain of Dafna being gone will always be there'
Natan Meir lost Dafna, his wife and the mother of his children, who was murdered in front of their home in Otniel.
"The loss is deep and surprising. In our case, the attack was also at home because the incident took place inside the house, and dealing with it is not simple. I can say that I have not forgotten where we came from and where we are going. In the grander picture, I know that our pain is a comma in the course of history and the people of Israel will overcome even this escalation of violence."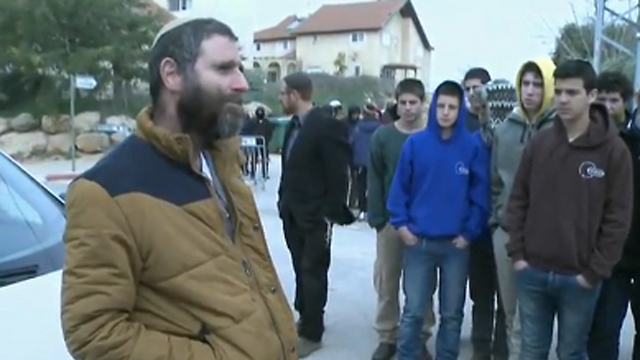 Natan Meir
But personally, Natan's private mourning does not let up. "The pain from losing Dafna will remain with me until I turn 120. This pain will remain with us forever and until the resurrection of the dead I do not see a relief for this pain. She would like me to continue to live, she would like to see life – 'Let's keep bringing happy children into the world,' 'let's keep giving unhappy children a home,' 'let's keep building,' 'let's continue growing,' 'let's keep loving each other.' I have a lot of questions for the Almighty and if He wants, He will answer me, but that's my belief," he said.
"I do not like what he did, but I have no doubt that not might will win, but the spirit."